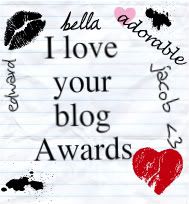 As a TwiHard and a beginner in Deutsch, I came across a great website!
Twilight Lounge
showed up on my screen as I was searching through new Twilight websites to fawn over. Luckily, this one showed up on my screen and it was absolutely
wunderbar
! The graphics are absolutely incredible and the news stream is totally up to date! These girls have done a wonderful of giving a Twilight face to Germany and to the Internet. This is not only my first international site I'm giving this award to but this is the first website I'm giving this award to. These girls deserve an award for doing such a fantastic job with not only their blog but with their website and their social sites! Here's to you girls! Thank you girls for such a wonderful blog!
How did you come up with your blog?
i had a blog going on myspace so i was used to blogging twilight news but i wanted to go 'serious' and signed up on
blogger.com
Why did you start your blog?
i'm a big twilight fan so i came up with my myspace twilight site (
http://www.myspace.com/officialtwilightlounge
). i was just browsing every day to read stuff about twilight and thought 'why not share your news'. and i started a blog because i wanted to keep all twilighters up to date with the latest twilight gossip. new pix and videos of course and i wanted to get to know some twilight fans even better.
What other blogs inspire you to keep on blogging?
there isn't really a site or a blog that inspire me to keep on blogging. it's mostely twilight itself.
How did you become a TwiHard?
i became a twi hard before the whole twilight mania started. i was browsing through amazon because i wanted to order a new book. and amazon recommended twilight. so i read it and fell head over heels for it. then new moon came. and one day i visited the official stephenie meyer site and she wrote that there's gonna be twilight the movie and after this news i went throught the internet to get to know something about the actors. and the rest is history ;)
Your blog design is incredible, what kind of work went into to make it the way it is now?
the layout for the blog was desinged by a very talented friend of mine. so it's self made.
What makes your blog unique?
my blog makes unique that it's a blog hosted by a german fan with international news. and there are many kinds of goodies that shouldn't be missed like ringtones and a very well stocked gallery. but most of all the internationality makes my blog special.
What will you guys be doing for the upcoming Eclipse premiere?
unfortunately there'll be no german eclipse premiere so we'll just post everything we can find from the other countries to keep u up to date.
Can people join your blog? If so, how can they apply?
oh i'd be happy if people wanna join my blog!! i'm always searching for people who want to desing something or help with the news posting. if they want to apply, all they have to do is send me a mail:
mareike@twi-lounge.de
What is it like as a TwiHard in Deutschland?
being a twi-hard in germany is on one hand better cuz you don't have the rivalry between the other fansites but on the other hand we don't really get in contact with the stars. i mean we have a convention once a year 'ring con' and a dvd release party but that's about it. we don't have any premieres. and there's no real merchandise to purchase either. and i don't think many germans know about twilight in the first place. but i don't give up hope that we actually getting a breaking dawn premiere.
How do you keep up your dose of Twilight in your life?
my dose of twilight?? news, news, news ;) and watching/reading twilight, new moon, eclipse and breaking dawn over and over again. and of course a whole bunch of merchandise i get from my friends from the usa or i bought over the internet ;)
Why did you come up with the "Twilight Lounge"?
the name 'twilight lounge' just some day crossed my mind out of nowhere. i was sitting there and thinking about a name for my myspace site and i thought 'lounge' has something grown up and implicates a place where you can just hang around and relax.
Where do you see your blog in three months?
in three months i see my blog in a different design and probably more visitors each day.
Do you have any contests or giveaways going on in your blog?
the last contest for our 1st b-day is over but there'll be a new contest coming up where u can win a dvd from michael welch's new movie 'lost dream'. exclusive on my site!
What advice can you give to upcoming or inexperience bloggrs out there?
first of all get yourself everything about html codes! you have to know how to put images in your blog and how to give the right sources credit. the second thing is you HAVE to give credit when you post something from other sites, that is very important when you don't want to get into trouble. and the third thing: don't give up!!! in the beginning there are no visitors but you have to post anyway. you have to get your name out there that people know you exist. so create a myspace site so you can tell your friends about your blog. keep your post's credibility up. be always up to date. sometimes write something personal in your blog post. like when you post a pictures something like this 'oh isn't it beautiful. what do u think bout it??'. and you have to have fun blogging because it talkes a lot of time! but if you are a real twi-hard that's not gonna be a problem ;)
You have read this article 'I Love Your Blog' Awards with the title 'I Love Your Blog' Award---June 2010 Winner: Twilight Lounge!. You can bookmark this page URL http://renthompsonishere.blogspot.com/2010/06/love-your-blog-award-june-2010-winner.html. Thanks!