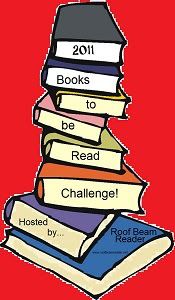 This is my second challenge I will be entering, it is a challenge dedicated to helping you get through that tall "To Be Read" pile we all desperately need to shorten (especially me). The challenge is represented by
Roof Beam Reader
and it is held for 12 months for you to read 12 books in your TBR pile. The books have to be published before 1/1/10.
Here is my list for the challenge:
The Scarlet Letter by Nathaniel Hawthorne

Interview with a Vampire by Anne Rice

The Vampire Lestat by Anne Rice

Queen of the Damned by Anne Rice

Willow by Julia Hoban

Nightlight: A Parody by The Harvard Lampoon

The Girl with the Dragon Tattoo by Stieg Larsson

The Girl Who Played With Fire by Stieg Larsson

The Girl Who Kicked the Hornet's Nest by Stieg Larsson
Peace and Fangs,
Alisha
You have read this article Book Challenges (2011) / TBR Challenge 2011 with the title 2011 To Be Read (TBR) Challenge. You can bookmark this page URL http://renthompsonishere.blogspot.com/2010/12/2011-to-be-read-tbr-challenge.html. Thanks!